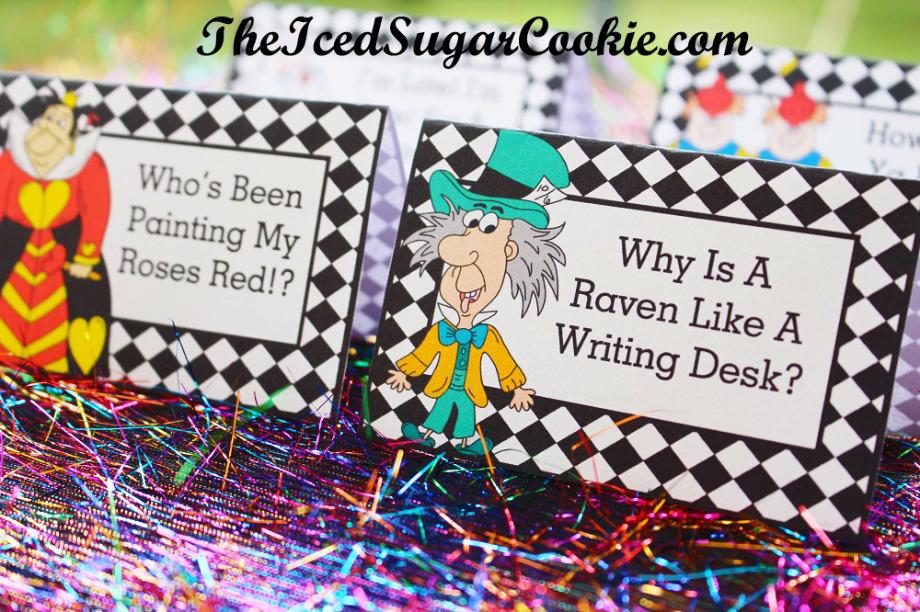 Cool Alice In Wonderland Birthday Party Food Cards
Looking for free Alice In Wonderland Food Cards? Well, just try these out!
Just pick out which food card you need and print it out on card stock. Then cut the cards out and fold on the line and prop the card up next to the item or food you want. These food cards are a great way to make your kids birthday party look awesome!
Back to Alice In Wonderland Birthday Party Printable Section.
Here is some Alice In Wonderland characters to add to your birthday party decor:
Alice
The Mad Hatter
Tweedle Dee And Tweedle Dum
The Cheshire Cat
The Queen Of Hearts
The King Of Hearts
Caterpillar
DorMouse
The March Hare
The White Rabbit
Mome Rathes
Singing Flowers
Card Soilders
Talking Doorknob
Table decor ideas:
Jumbo Tea Cups
Tea Pot
Stuffed Doormouse
Tea
Sugar Cubes
Small Plastic Alice In Wonderland figures
Try using the Jumbo playing cards as the Red Queens soldiers and line them up outside or inside. Add some arms, legs, head, and let them hold a long spear in their hand. You could easily just pick up some really large white poster boards from Walmart and then turn those into the soldiers. Just use a red sharpie to draw on the numbers and stuff. The jumbo tea cups can be bought online from different places and you can use those as decoration on your table. Just a stuffed doormouse in one of the large tea pots you have and your centerpiece is complete. Maybe you would rather just buy some amazing Alice In Wonderland wooden props that have been hand-painted and drawn. Then check out Etsy. They have lots of stuff to pick from. Or you might check out these Alice In Wonderland Foam Props instead. Etsy literally has everything you need to make your Very Merry Unbirthday Happen! Or maybe you like the Singing Flowers instead! If your feeling super creative and crafty and your just itching to make some foam board props yourself then check out some different Youtube videos that show you how. Here is one I found that shows you how to make them. It's a lot of work but they are super duper cute! (How To Make Foam Board Drawings For Your Room) You could make little mushrooms for the table using this method or make larger characters.
You Might Also Like:
Alice In Wonderland Photo Booth Props
Alice In Wonderland Flag Banner
Alice In Wonderland Printable Section